Tree Surgery and The Birds in Spring
Spring is very much in the air now, despite the somewhat gloomy weather of late, (this written mid-Feb); the team have been glad of the stock of long waterproof jackets hanging at the yard, even if they're still a bit damp when we slide into them the next morning!
With Spring comes the budding season, and the hopeful signs that the natural system is doing it's natural thing, whatever else is going on around us in the wider world.
The birds are beginning to find mates and appropriate spots to nest.
Customers are sometimes concerned about how we take accounts of the feathery inhabitants of their trees and hedges; we feel the same, and have long had a (written) policy about how we deal with wildlife "in situ", as it were!
The main points of the policy confirm that we:• Check carefully at the first stage when quoting for work, before anything is done. We treat nesting birds a bit like any other "risk" so we're looking out for them from the start• Check again on arrival at the site, which might be a long time after we have first quoted for the work (if planning permission is needed, for example). The conditions in the tree or hedge might have changed since then; inhabitants might have moved in!• Stop work if we come across a nest in the course of the work. Sometimes it's impossible to see a nest from the ground, but if we find one, we can sometimes work carefully around it and if we can't, we withdraw and return about every 2 weeks, until the chicks have safely fledged
All our policies covering our client work are available by email to customers.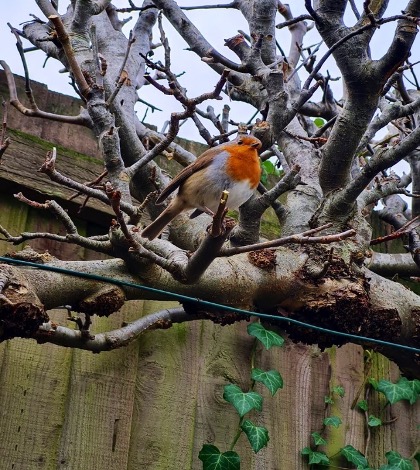 This chap kindly supervised a light fruit tree prune last week
For advice and a free quote for work to your trees and hedges, call Andrew on 01256 817369, 07771 883061 or email him Andrew@primarytreesurgeons.co.uk For more stories and information about our day-to-day work visit us on Twitter@PrimaryTreeSurg