Though tree surgery is, of course, about tree pruning and tree felling when needed or required, it is mainly about tree care.
Most customers love their trees; put up with them when they're a pain, worry about them when they seem unwell, fret when they misbehave by dropping branches and leaves in unsafe or inconvenient, messy places. Trees become like family, and we completely get it.
We spend a lot of our time cutting into trees – after all, it's what we do. We know how to do that to cause the least harm to the tree, and we try to maintain in the front of our minds that minimum intervention is the way to go.
Sometime, felling really is the only option because the tree is unsafe of in a high-risk area, and sometimes the customer has just fallen out of love with their troublesome tree, and down it must come.
So we love it when there is a chance to plant!  This customer created a beautiful hedge on a new boundary, choosing glossy evergreens from one of our fantastic suppliers at Hortus Loci Plant Centre.  It was a pleasure to be putting some lovely plants back in, and provided a fantastic training day for one of our younger team members.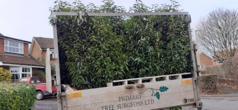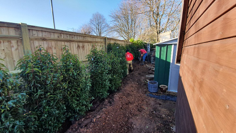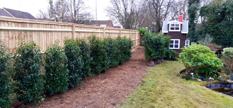 For advice and a free quote for work to your trees and hedges, call Andrew on 01256 817369, 07771 883061 or email him Andrew@primarytreesurgeons.co.uk  For more stories and information about our day-to-day work visit us on Twitter@PrimaryTreeSurg