Customers and passersby sometimes comment on (what looks like) aerial acrobatics undertaken by climbing arborists as they make their way around the tree in pursuit of the end goal – to prune or fell a tree professionally, safely and efficiently.
An athletic climber, chainsaws swinging off his or her belt, managing what looks like miles of ropes and moving seamlessly around the crown at 20m + off the ground, is quite the entertaining sight.  We still love watching our team and we've been doing it for years.  It's the more "glam" side of the job, if you want to look at it that way.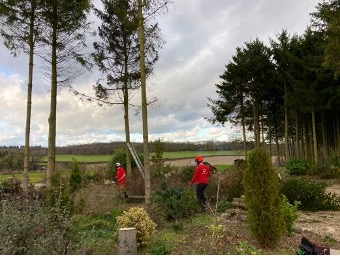 But what customers ALWAYS notice is the work that is ususally done primarily by the ground team: The clear up.
We take pride in leaving every garden a little bit better than when we found it. With the right kit and the desire to leave custoemrs delighted, the ground team go to some lengths to tidy up and to leave as little trace as possible. Our feedback reflects that it's the thing that people love the most.
What they don't see is the skill and work that goes in to completing the "glam" part of the work effeciently and safely.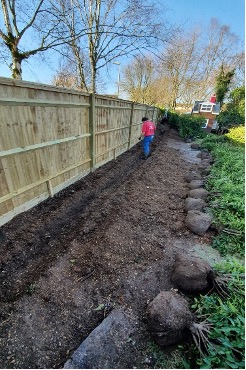 It's always a team effort, of course, but working with the climber, our ground team are responsible for safe site set-up and management, sometimes involving vehicles and pedestrians…for supporting the climber in the tree through regular refuelling and passing of well maintained, sharp powered saws…for giving him feedback and guidance if he finds himself in a blindspot in the crown…for providing the directional roping that enables sections of tree to be dismantled safely, often using complex rigging, and sometimes in very tight of risky spaces (such as directly over greenhouses)…for processing what comes down onto the ground safely and efficiently…for moving, staging and loading what we call "the arisings" so that the ground is clear and the site remains safe…providing aerial rescue in the worse case…for being the emergency first aider and responder in case of injury.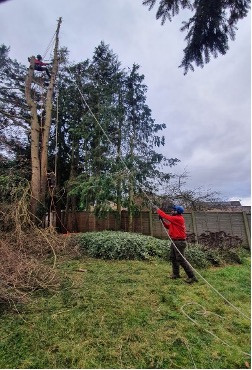 And of course they are also our chief hedge-meisters, planters, kit-maintenance men, MEWP- operators and drivers! It's a skilled job, being a Groundsman in tree surgery. A job our great Groundies are qualified and accredited to do, and for which they have spent many years training. Shout out to the groundies!
For advice and a free quote for work to your trees and hedges, call Andrew on 01256 817369, 07771 883061 or email him Andrew@primarytreesurgeons.co.uk For more stories and information about our day-to-day work visit us on Twitter @PrimaryTreeSurg