This birch tree had become over-large from the space, probably because it was a poor planting choice way back when, and because the tree hadn't been regularly pruned. Unfortunately, it had become too much for the residents to deal with and had become the subject of complaints about shading and leaf drop.
A team of three PTS tree surgeons worked on this job. The work at height is completed by a trained arborist who first removes the crown in sections. It always looks like much more on the ground than on the tree!
The groundsmen chip the brush wood (the branches and twigs that make up the crown) and cut up the loggable wood for removal to a licensed green waste site on Odiham. Nothing gets wasted, so even when a tree has to come down through ill health or for reasons of space or light, it is recycled.
What a great job the groundsmen do! Nothing is more important to most of our customers than a clean and tidy space left behind.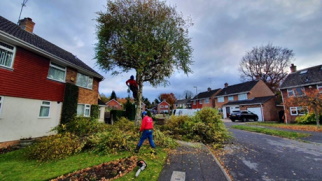 For advice about your trees, call Andrew on 01256 817369, 07771 883061 or email him at Andrew@primarytreesurgeons.co.uk. For more information and stories, we're on Twitter @PrimaryTreeSurg