Run by the Minstead Trust, a charity which provides a variety of practical support to people with learning disabilities, Furzey Gardens is a magical woodland garden which invites and encourages us to get and keep in touch with our sense of wonder about the natural world.
Tucked away in the middle of the New Forest, the gardens are home to many of the Forest's oldest veteran trees, living gently alongside newer, exotic and ornamental tree species. There are fairies around every corner!
We've been delighted to be able to support the health and long-term wellbeing of the trees over the last couple years in a very small way; offering a professional view of the risk that the trees present to the visiting public helps to make sure that they are maintained in a thoughtful way, and any obvious, visible risks to site users are identified and mitigated wherever possible.
It was a pleasure to be on site last week and to see the first stages coming together of a strategic plan to open up space and light to the area around the pond, creating a beautiful vista of the fields beyond, and removing the impediments to proper, old-fashioned games of hide and seek of the young and young-at-heart.
Wonderful to see that the fairies have already moved in to one particularly suitable stump!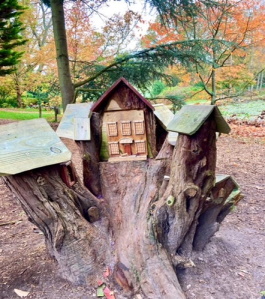 For advice and a free quotation for tree work, contact Andrew on 07771 883061, 01256 817369 or email him Andrew@primarytreesurgeons.co.uk For more information and stories, we're on Twitter @PrimaryTreeSurg